Posted: 05/20/2014 2:21 pm
UPDATE 2: 4:22pm, May 2014. A post from the Shenzhen police Weibo tells us the areas facing the highest risk from the storm are the districts of Bao'an, Longgang, Longhua, Guangming New Town, Pingshan New Town, and Dapeng New Town. Police tells everyone to be vigilant and exert caution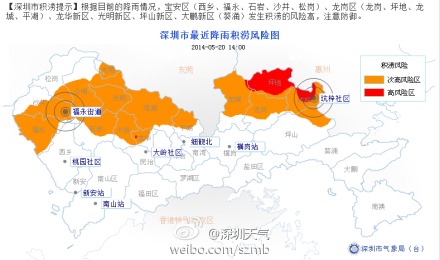 UPDATE 1: 3:06pm, May 20, 2014. Shenzhen has just issued a red alert weather warning. As a result, protocol states that middle and elementary schools are now closed, workers are discouraged from going to work, and delays are to be expected for public transportation.
***
As Dongguan issued a rain alert earlier today and the forecast calls for precipitation to last until Friday, the mounting costs of a this past week's torrential rain is estimated at RMB 205 million and at least two fatalities.
The Guangdong Provincial Ministry of Civil Affairs has reported the storm and flooding is responsible for two deaths and one missing person. The victims include an eight-month pregnant woman who was washed away in a landslide when it destroyed her home in Pingshan New District, Shenzhen.
The Ministry of Civil Affairs reports the rain has affected a large area of Guangdong since it began on May 15 including the six cities of Shenzhen, Shaoguan, Meizhou, Shanwei, Qingyuan, and Yunfu. Twelve counties and 52 villages have also been hit by flooding of varying degrees.
As of 5pm on May 19, Guangdong had a total of 100,200 people affected by the storm, in which 17,800 people were evacuated. 131 buildings have collapsed, and 6,300 square kilometers of crops have been affected.
Meanwhile, Guangzhou was hit hard with rain on Sunday before noon when 50mm fell within an hour. An accumulation of 400mm was recorded in Tianhe District and caused a 3km-long traffic jam.
The rain in Huizhou has affected some 10,000 residents and is said to have caused eight landslides. 428mm of precipitation was recorded in the 24 hour period before 6am on May 18.
A weather forecast for Guangzhou says that rain will continue everyday this week until Friday, but that lightning will cease after today.
Photo: Al Jazeera, Shenzhen Police via Weibo