The PRD begins cleaning up the mess left behind by Typhoon Vicente
Posted: 07/26/2012 3:21 pm
After we told you that Hurricane Vicente was the worst to hit the region in 13 years, it has emerged that the death toll is currently at three, with six more missing, according to local media. Two of the dead were in Zhuhai, according to Sohu News.
Chengguan are enlisting the help of members of the public to clear fallen trees, but busiest of all will be the insurance companies, according to local media. Hundreds of millions of yuan worth of damage has been done in the region by Vicente.
Much of the damage was caused by trees falling on cars and buildings. There was also infrastructural damage such as telephone wires that were torn down in Zhuhai, pictured below.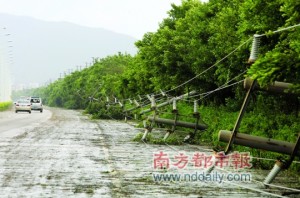 A landslide blocked the Shenyan Tunnel in Shenzhen, according to The Southern Metropolis Daily, but no casualties were reported.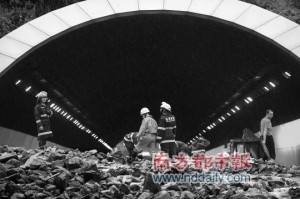 An estimated 110,000 trees in Shenzhen were damaged or blown down, according to the paper.
Guangzhou was also badly affected. It will continue to see heavy rain today and tomorrow, but the hot weather should be back by the end of the week.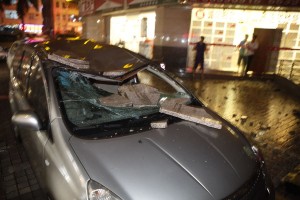 Even Nasa was caught unaware by the rapidly increasing intensity of the typhoon. And according to the Democratic Underground, if a similar type of storm were to affect a vulnerable area of the U.S. coast such as the Florida Keys, New Orleans, Houston/Galveston, or Tampa Bay, the death toll could easily be in the thousands.
Most flights and ferry services that were cancelled have now resumed.
You can view the latest Nanfang Studio on the aftermath of the storm.  It's titled "Cleaning Up After Typhoon Vicente" and can be viewed here.