Tropical Storm Kai-tak is heading our way
Posted: 08/16/2012 8:56 am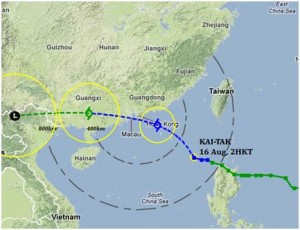 The recent warm weather will turn to persistent showers and gusty conditions as another typhoon heads for the PRD.
Severe Tropical Storm Kai-tak is making its way through the South China Sea, the third major storm to hit the region this season.
Current forecasts from the Hong Kong Observatory show the storm is expected to reach the PRD late Thursday and early Friday morning, and gradually head towards Guangxi Province.
Kai-tak battered the northern reaches of the Philippines, which was already reeling from the worst flooding in living memory, dumping hundreds of millimetres of rain.  Two people died after the typhoon caused severe flooding and landslides.
The PRD is being kept busy this year when it comes to typhoons.  Vicente, the most powerful storm in 13 years, clobbered us in July and Doksuri swing through before that.
Stick with The Nanfang as the storm system moves closer.  We'll be be providing the latest updates from Guangdong, Macau, and the Hong Kong Observatory as they become available.
For the latest weather signals region-wide check out this website.