Panic in Shenzhen After Stabbing Rumor Spreads
Posted: 05/28/2014 5:01 pm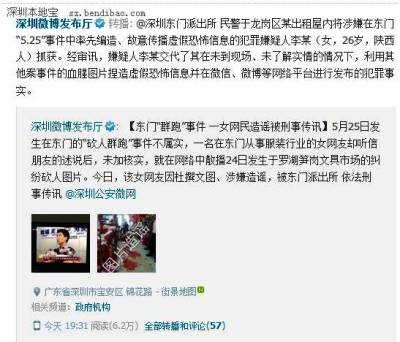 Panic gripped Shenzhen this past Sunday when a rumor started getting passed around that a stabbing incident had occurred at the Dongmen pedestrian walkway. But it was just that—a rumor.
A mentally-handicapped person knocking over a clothing rack was the catalyst that kept spinning into a rumor that a violent knifing rampage was occurring in Longgang District when social media kept forwarding images of a scene of carnage with pools of blood, reports GMW.
On Sunday afternoon, a Weibo user named "candy" sent out the following post:
My goodness, have these (unspecified ethnic group) thugs gone crazy? Knife-wielding attackers have arrived in Shenzhen; everyone going out should use caution! Yesterday afternoon, this pair of (unspecified ethnic group) knife-wielding attackers went into Sungang Warehouse Office Supply Wholesale Market and killed several people, and today there's another violent incident at Dongmen pedestrian street. Fortunately, I didn't go out as I didn't have anything to do. My heart is trembling with fear right now.
That led to other users making unsubstantiated posts of their own like the following:
"Dongmen is complete chaos now. It's been cordoned off, what do we do?"
"People have been stabbed near Dongmen. Everybody should be careful when going out. People shouldn't go over there right now."
"It's been said that two attackers were stabbing people in a store, and that they also have guns, and that they have not yet been subdued. It's complete bedlam in Dongmen right now. Many stores have closed, many people are leaving with their families. There are many people in total panic on the pedestrian street right now."
Police refuted the rumor when it first appeared, but it was two hours before order and calm was restored to the city.
A 26 year-old woman from Shaanxi Province surnamed Li has been detained by police and is facing criminal charges as police continue their investigation.