Watch: Shenzhen Residents Run For Their Lives From Rumored Knife Attack
Posted: 05/29/2014 10:36 am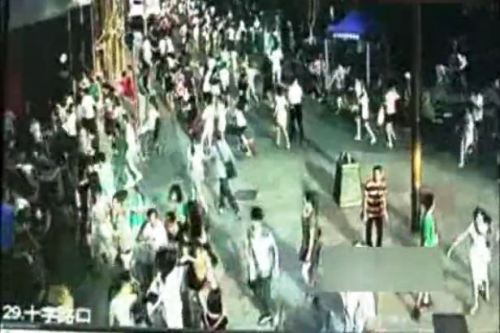 Mass panic, complete bedlam: video surveillance of Dongmen Pedestrian Walkway in Shenzhen this past Sunday shows a scene of utter chaos. The vicious knife attack that was rumored to have happened turned out not to be true, and neither was the actual cause of this panic.
RELATED: Panic in Shenzhen After Stabbing Rumor Spreads
The text at the beginning of this video reads (text missing from the truncated Liveleak version as are shots of police, but retains the suspenseful music nonetheless):
Knife Attack at Dongmen Pedestrian Street in Shenzhen Verified as an Online Rumor by Police

On the afternoon of May 25, information spread online stating a knife attack had occurred at Dongmen pedestrian walkway. When police rushed to the scene, they discovered there was no such case, but instead the chaos was due to a rack being knocked down in a subway shop by a person with a mental illness; this led to the surrounding crowd dispersing and causing panic. Here, QQ Live Video has obtained surveillance video of the scene.
Wait, so all this panic and people running for their lives was caused by one guy pushing down a rack in a store? Based upon the scant information we have, we can only surmise the guy who pushed down the shelf must be eight feet tall and works for Tywin Lannister, or that the rack that got knocked over must have held some kind of panic potion (conveniently bottled in fragile glass mason jars), or something to do with the detail of mental illness that always gets mentioned in stories like this.
They're not the only ones. Shenzhen Daily reports this story with the following line:
Instead, police said the panic was caused by a suspected mental patient pushing over a shelf at Dongmen Metro Shopping Center.
But like the title of the video, the title of this story states that a rumor, not a suspected mental patient, is the cause of the panic:
Rumor causes panic at Laojie
Yes, a story about a rumor spinning out of control can't get its own facts straight and causes more chaos, something that does qualify as "ironic" in every sense of the word if you've been waiting for a correct usage of the word.
As we reported yesterday, a 26 year-old Shaanxi woman surnamed Li has been arrested for her part in spreading rumors and inciting panic in the public. After some guy pushed down a shelf in a store (something something mental disease), Li made a post on Weibo that specifically described a knife attack happening in Dongmen by two men of an unclear ethnic origin and even posted bloody pictures of the scene (read the message in full here).
A person with mental disease named Huang but otherwise known as "Shelves McPushalot" is not the cause of the panic, otherwise he and his mental disease would be in jail; instead, he is the cause of the rumor.
The rumors are the cause of the panic.
[h/t Kotaku]
Photo: Sohu screenshot