Posted: 07/22/2014 4:11 pm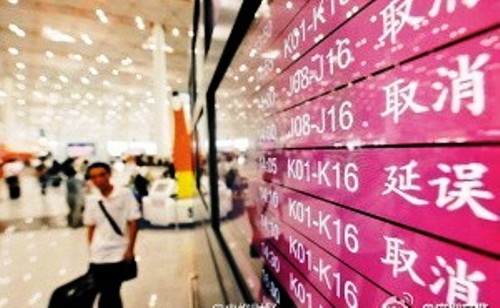 Going somewhere? For those of you along China's east coast and getting ready to take a flight in the next few weeks, don't raise your hand so fast.
Asia Today reports the following twelve airports will experience delayed flights from July 20 until August 15: Shanghai Hongqiao, Shanghai Pudong, Nanjing, Hangzhou, Hefei, Jinan, Wuxi, Ningbo, Qingdao, Lianyun Harbor, Zhengzhou, and Wuhan.
In fact, civil authorities are asking airlines to reduce their total number of flights by 25% during this time period.
The military will apparently be conducting air drills, or "high frequency exercises", during that period. All the same, the reasons behind the air space shutdown remain secretive. Internet users Ma from Beijing and Pei from Hainan were both arrested and charged for spreading rumors online, having said "said military exercises is just a decoy". Thirty-seven other people were warned about spreading rumors, but not arrested.
Rumors aside, the number of delayed and canceled flights is not inconsequential. The Civil Aviation Administration of China said that 101 flights had been canceled at Shanghai Pudong International Airport by mid-day July 14, and 103 were delayed by more than two hours. Across the city over at Hongqiao Airport, 98 flights were canceled.
If there is a solution to this mysterious process that will inconvenience air passengers, it would be the readily-given suggestion to bypass the use of planes and use China's high-speed railway system instead.
Photo: Shenzhen Police