Visitors to Canton Fair ripped off to the tune of 30 million RMB
Posted: 05/1/2012 9:39 am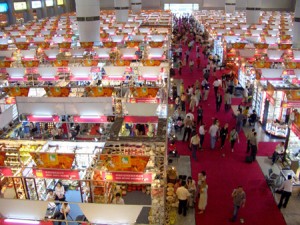 For most businesses in the PRD, the month of April is busily spent placing orders for clients at the Canton Fair, the most popular international trade fair in Mainland China. Yet, while businesses are working overtime, so too are the thieves. According to the Nanfang Daily, there have been at least fifteen robberies of personal belongings worth more than 30 million RMB during the course of the Fair.
One such case involved a 36-year-old foreign businessman identified as "SLB". SLB met two women identifying themselves as Hong and Li at the Guangzhou Railway Station at approximately 7pm last Sunday evening. The two lured SLB to a 3rd floor rental unit located in Huangqi, under the auspices of purchasing shoes. When SLB realized something wasn't right, he attempted to leave but was grabbed and pulled into the apartment. After managing to get free, he fled and immediately reported the incident to an officer in the vicinity. Based on SLB's description, Nanhai police arrested Hong, Li, and another member of the scam, Zhao, soon after.
According to police, the attempted robbery was not an isolated case, and at least ten other reported robberies led back to the same Huangqi rental property. Upon further investigation, it was discovered that the scam involved two neighboring apartments with a false wall between the two. While a victim was led into the apartment by one member of the gang, another would enter through a wardrobe (concealing the false wall) from the apartment next door. Once inside, the member would steal the victim's belongings and disappear through the false wall.
While the full extent of the enterprise has yet to be determined, six suspects have now been arrested and confessed to running the scam on at least fifteen different victims.