Foshan Protesters Burn Vehicles in Riot Against Police Brutality
Posted: 05/26/2014 3:30 pm
Two police motorbikes were set on fire and a firefighter truck vandalized when a riot broke out after hundreds of angry onlookers protested the beating of beggars by law enforcement workers in Jun'an Town*, Foshan on May 23, Hong Kong-based newspaper Wen Wei Po reported on Sunday.
According to a statement posted on the Shunde Police Department's official Weibo account, a man surnamed Li stopped a truck in front of the Jun'an No. 2 Bridge to unload a group of five disabled beggars around 8pm on Saturday, an act described by police as "an occupation of the main road and greatly disrupting traffic order". As the beggars were getting out of the truck, traffic enforcement personnel had reportedly requested Li to move.
Li refused to move and pushed the beggars into the middle of the road, some of whom were seen lying under cars, which quickly attracted the attention of hundreds of onlookers. The Wen Wei Po report said the police eventually beat beggars and damaged their singing props, a point not noted in the police statement.
No casualties were mentioned in either report.
Three people, including Li, were arrested for burning the motorbikes, vandalizing the truck and instigating the crowd.
It's unclear if Li is involved in organised beggar gangs in Guangdong. Some gangs in the province purposely disfigure victims to send out as beggars.
Images posted by weibo user @史丹利澳门 can be seen below: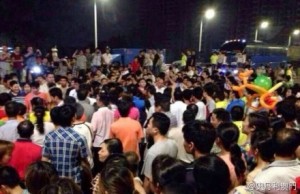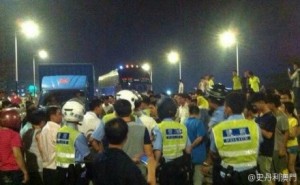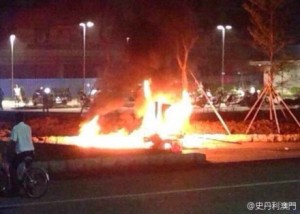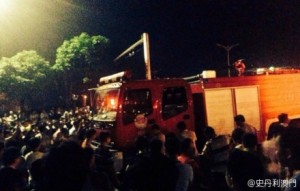 *Jun'an, Foshan is best known as kung-fu star Bruce Lee's ancestral hometown
Home page and content page photos from weibo user @史丹利澳门