Global Times: Shenzhen government proposes helping beggars
Posted: 07/6/2012 7:00 am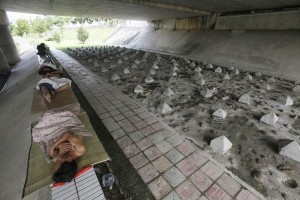 After it recently emerged that authorities in Guangzhou and Shenzhen had installed thousands of cement spikes under bridges, netizens reacted with outrage. An unnamed Guangzhou construction commission official confirmed that the spikes were put there to prevent homeless people from tarnishing the city's image.
Zhang Bingchun of Shenzhen's flood control authorities explained that the spikes were there because homeless people sleeping under bridges would be in danger as those paths are used for flood drainage during the rainy season, suggesting that the negative reactions may have been disproportionate.
Now the Shenzhen government has proposed taking a more humane approach to reducing the number of homeless in the city.
Beggars in Shenzhen may be offered the chance to get free education or a ticket back to their hometown, Global Times reports.
According to the paper, the city's Civil Affairs Bureau intends to group beggars into five categories: those who cannot provide themselves with food and accommodation, juvenile beggars under the age of 18, professional beggars, physically handicapped beggars, and beggars who may be prone to commit criminal acts.
Each category of homeless person will be helped according to their needs, according to the Shenzhen Legislative Affairs Office. Those prone to committing criminal acts will be persuaded to return to their hometowns and be closely monitored by police. Those in all the other categories will be provided with whichever they need of food, temporary housing, free education or tickets back to their hometown, the office said.
Shenzhen's Chengguan have complained that the number of homeless people in the city, particularly in crowded areas such as Huaqiangbei is becoming unmanageable. They pointed to the particularly large number of beggars who wander through traffic shaking their bowls at motorists.
Do you think such a humane approach to reducing homelessness can actually be carried through?