Guangzhou Expats Get Embroiled in Cross-Straits Tea Leaf Egg Feud
Posted: 04/3/2014 8:24 am
Taiwan students might be busy sitting out in front of the government building protesting a trade pact with China, but their Chinese counterparts are fuming over a controversy involving the tea leaf egg, a hard-boiled brownish egg flavored with tea leaves, soy sauce and other herbs.
It all started a few days ago when a comment from a Taiwan TV commentator surfaced online. The commentator said most Chinese can't afford to eat a tea leaf egg, a popular snack in the Greater China region that normally costs around one renminbi ($0.16). The comment was seen by Chinese as a proof of wide misconceptions held by Taiwanese toward China, which has paddled out of Mao's protracted poverty to become an economic powerhouse.
Netizens from China's social media went along with the too-poor-for-a-tea leaf egg comment and pretended to revere the egg as the new symbol of wealth. A Weibo user named Ok-lee wrote: "My mother sold all her jewelry and dowry, and my father sold his house and even asked for a bank loan to buy me this tea leaf egg. How can I ever repay my parents!"
Now even foreigners have decided to join the cross-strait feud.
Three laowai in Guangzhou, all dressed in eye-catching traditional Chinese garb, were seen giving away free tea leaf eggs to local residents outside of a MTR station in Guangzhou on April 1, 21CN reported.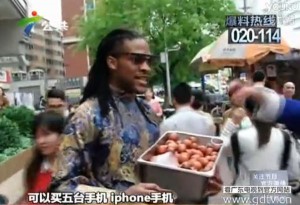 While freely giving away the eggs to passers-by, one expat promoted the eggs in standard Mandarin by saying: "A single tea leaf egg is worth five phones, five iPhones, and a BMW. All of that is worth this (holds up a tea leaf egg)." (The video can be watched here.)
Home page and content page credit: Guangdong TV