[Photos] Peking University Blasted for "Brothel-Like" Ads to Recruit New Students
Posted: 05/25/2014 6:55 pm
A prestigious Chinese institution has found itself the target of irate netizens after posting a recruitment ad on Sina Weibo.
Peking University posted an album titled "Welcome to Apply to Peking University" today, but it was deleted soon after. Why? Well, take a look at the method the university used to attract the interested applicants: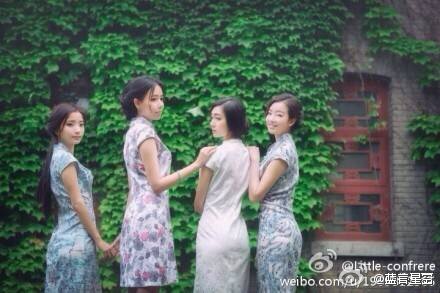 Using beautiful women to sell something certainly isn't a new concept, but is it right for a university? Even if good looking students are used in ads, is it okay to be so… crass?
Many people online are calling the girls "feng shen", meaning unfortunate women. Of course, there are other less polite posts:
程军Jason:All the "girls" are out, but where is the mamasan?
史上最潮物理老师:It is not wrong to use pretty girls to attract more students, but these girls are so unfortunate, is this an ad for Dongguan?
招财小猫1:It looks like an ad for a brothel!
RELATED: Girls in Infamous Peking University Ad Hurt by Online Criticism
实都:回复@耶路撒冷冷冷冷冷: Second generation rich and the offspring of government officials, please hurry up and come to Beijing University, we have rich resources here, good quality.
话梅也太咸了:Is this a university or a brothel? Looks like they are recruiting prostitutes!
It's no secret that there's a lot of sex happening on Chinese universities, and not just among students. But using pretty girls to recruit students isn't common at all, especially not for a university of Peking University's stature. These pictures were deleted not long after they were published in the face of overwhelming criticism from netizens. A few more photos are below, for your edification.