Piles of Money, Not Tombs, Now Top Attraction at a Beijing Historical Site
Posted: 08/19/2014 2:02 pm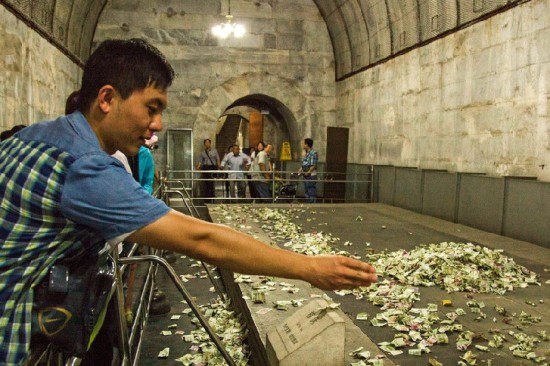 The Ming Tombs are a regular stop on any tourist's visit to Beijing, probably as a stop en route to the Great Wall of China. But while the Thirteen Tombs of the Ming Dynasty, as they are officially known, as a tourist attraction unto themselves, there's now another reason to visit them: the piles of money being left behind by visitors.
Pictures taken on August 15 show parts of the UNESCO World Heritage site completely covered in currency, most of which are 1 yuan or 5 mao notes. Visitors to the underground tourist attraction have been leaving behind money as a way to "pray for blessings". It's a phenomenon that continues to grow as staff refuse to handle the offerings besides sweeping them into a large pile.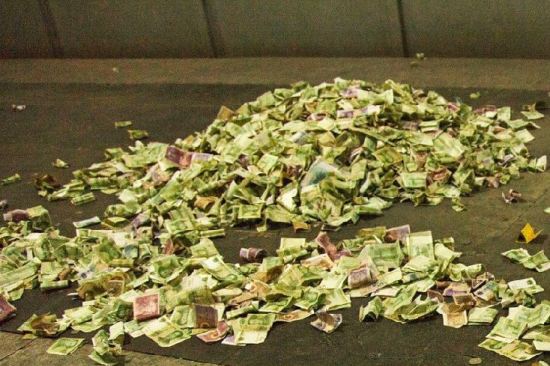 At first glance, this may appear to be the Chinese-equivalent to a Western wishing well or fountain, but several cultural factors make this something quite different altogether.
Ancestor veneration is a major part of Chinese culture in which filial piety can be demonstrated through interaction at a grave. Commonly performed on Qingming Festival, graves of ancestors are swept clean and offerings are given as a sacrifice. Not many Chinese can count a Ming Dynasty emperor as a related ancestor, but many do consider such kings to be "fathers" according to Confucian theory. While kings don't exist in China anymore, ancestor veneration still does.
And while the report calls the act of offering money to the tomb as "praying for blessings", it is less a spiritual or religious act as a superstitious one. With the importance placed on fate for many Chinese, the concept of fortune is often contested, especially in the form of luck.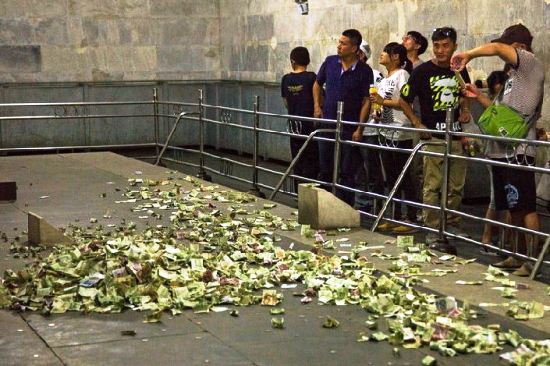 By providing a sacrificial offering of one yuan, visitors to the Ming tombs can show their filial worth while stimulating their own luck.
As the size of the offerings become overgrown piles of cash on the floor, it's very likely that they'll stay that way. As offerings to the dead, this money has become the property of the tomb. Anyone considering taking even just one bill will risk instigating the other half that makes up Chinese superstition: evil spirits. Even if the authorities don't catch you, the supernatural powers of ghosts may still get their way.
Netizens weighed in on the issue with their own opinions: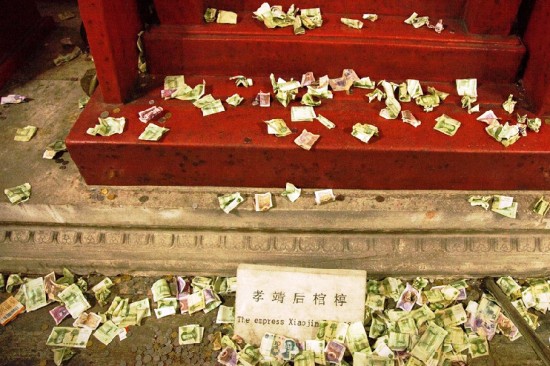 国安_小乐:
Do you really think an emperor would respect an offering of one kuai? You ought to directly throw your bank card with your monthly salary at it along with your password on it. Now, that would be appropriate, and this way the card can be updated with a new balance each month.

光与流光:
Proposal: Firmly against any countrymen that throw money wherever they go.

东下霸唱:
Don't worry, wait until nightfall when the scenic area management will take it all away.

鱻鱻鱼鱼:
This isn't respectful towards the dead! Just what are you doing, throwing money at their resting place?

左鑫enn:
On another day, everybody come over to the spot behind my house, I'm setting up a place where you can pray for blessings.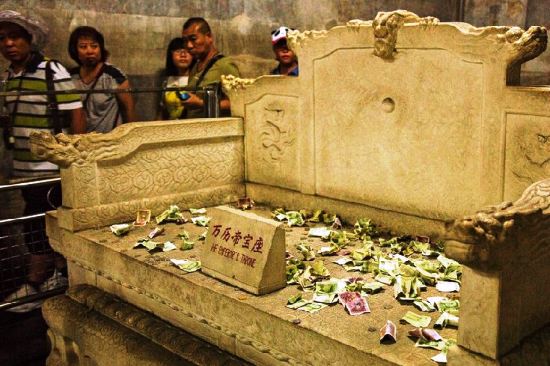 Photos: China News