Posted: 07/23/2012 7:25 am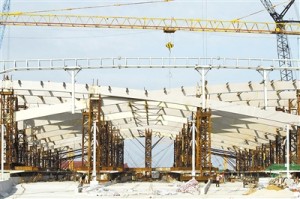 While no firm date has been released, residents in Zhuhai and Macau can expect the long awaited Gongbei station, connecting the Guangzhou-Zhuhai intercity mass rapid transit (GZMRT) to open by the end of the year, according to Zhuhai Daily. Of the four major Zhuhai stations on the MRT line, only Zhuhai North Station is currently operational.
Far and away the most important of the four stations, completion of the Gongbei station is now well behind schedule. The station is critical as it is one of two ports of entry on land between mainland China and Macau. According to officials, the project's delay has resulted in serious congestion throughout the port. Moreover, until the station is complete, travellers have no choice but to take a 40-minute shuttle bus to reach the border as there is no other means of public transportation.
From the beginning, development at the site has been plagued with controversy, and construction woes. The high density of underground pipelines has made navigating the terrain incredibly complicated for construction crews. What's more, following the July 23, 2011 Wenzhou rail crash, new engineering requirements and safety regulations were introduced, all of which have further delayed the project. Yet despite the delays, a recent progress report stated that construction could be completed as early as the end of August, provided there's no severe weather between now and then, and all final inspections go smoothly.
As to when the station will be open to traffic however remains anyone's guess. According to the Nanfang's Danny Lee who recently investigated the story, completion by the end of the year is incredibly optimistic: "From what I could see, the station is far from finished. Major delays to the final leg of the rail line have clearly been influenced by the Wenzhou rail disaster… I suspect the station won't be operational till sometime in 2013."