Posted: 07/31/2012 11:05 am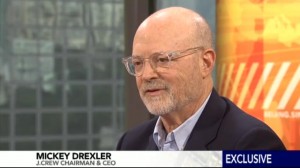 One of the big benefits of living in the PRD is having access to all that Hong Kong offers just south of the border. While those in Shanghai and Beijing get their "authentic" China experiences, we're fortunate to get the best of China where we live with the added convenience of having access to the foreign retail chains in Hong Kong, cheap electronics, and even a wide selection of books unavailable on the mainland.  (Not to mention fast and unfettered Internet when it's needed).
For those that like to head south to pick up items unavailable up here, you're going to like this: US fashion retail icon J. Crew is moving in.  The brand – adored by the likes of First Lady Michelle Obama – is now scouring Hong Kong looking for a place to open a flagship store.
J. Crew won't be the first US chain to open in the territory, either.  The city has seen a US retail invasion over the past few years with the Gap having opened in Central and Abercrombie and Fitch set to open on Pedder Street on August 11.  J. Crew has over 200 retail stores in the US and Canada and believes entering Asia through Hong Kong – which is seen as a mature market – is a stepping stone to further growth in China.  After all, Hong Kong has a strong combination of local consumers and 42 million tourists, including 28 million mainland visitors.
J. Crew chairman and CEO Mickey Drexler told Bloomberg today: "You must be in Hong Kong, you must be in Shanghai and… We need to grow quickly."
While western brands are moving in, there are signs of a spending slowdown in Hong Kong. Figures for October 2011 showed growth of 23 per cent, but in May 2012 it tumbled to 5.8 per cent, the slowest pace of growth for 18 months.
There's no word on when the new J. Crew store will open.