China Southern upgrades GZ-Sydney to superjumbo on cheap Canton Route
Posted: 05/6/2013 8:53 am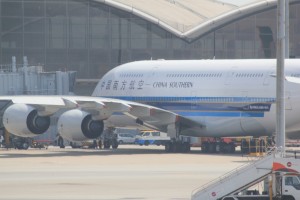 China Southern Airlines' (CSA) flagship A380 superjumbo is set to land in Sydney later this October underlining Australia's importance as a key tourism and trading partner to Beijing.
Starting October 27, flight CZ325/326 will shuttle passengers between Guangzhou and Sydney, boosting the 'Canton Route' as the cheapest way to fly between the Australia and Europe.
With 41 per cent more capacity, according to CAPA data, it will increase the number of cheap tickets, especially at the front and top of the plane: there will be 52 more business class seats and four more in first class to fill.
Travelers won't be able to fly all the way to London on the A380, however. Qantas, Emirates and Singapore Airlines are the only full-service carriers to fly all the way with the superjumbo.
CSA plans to put Boeing's troubled Dreamliner on its European destinations – Amsterdam, London, Moscow and Paris – as soon as the first of 10 deliveries arrive.
Travelers en-route to Australia and Europe will be able to take advantage of Guangzhou's soon-to-be implemented 72-hour visa free policy, potentially boosting Guangdong's image to tourists.
People are packing their bags for Down Under in droves. Some 386,000 passengers flew with CSA in 2012, 56 per cent more than in 2011, according to Xinhua.
China's biggest airline is proving a popular choice with the best connections to Australia.
The Guangzhou-based airline already flies twice-a-day to Sydney, and 30 return flights a week to Australia from its Baiyun hub, doubling the number of services operated three years-ago.
CSA has ambitious plans to operate 55 weekly return flights to Australia and New Zealand by 2015.
The combined popularity of Asia's largest airline and the allure of Australia means that all services Down Under are turning a profit.  It's a rare bright spot, with most international routes deep in the red as a result of aggressive expansion.
Outside of China, the A380 only flies to Los Angeles. Regulatory hold-ups have restricted the majority of the five planes worth US$389 million each to Beijing, Guangzhou, Hong Kong and Shanghai.
The latest earnings by CSA show an 82 per cent slump in first quarter net profit to RMB57 million (US$9.1 million).
Photos by Danny Lee and Noel Jones