Eco-solutions for sustainable cities in the PRD
Posted: 06/28/2012 12:00 pm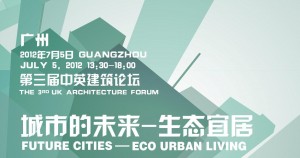 As cities grow by the hundreds of thousands year-on-year, people are being lured to economic hubs in search of money.  With economic activity expanding, especially in the Pearl River Delta, cities are dealing with questions about how to manage that growth. Where does sustainably lie in urban development in the future and how can cities ensure a cleaner, greener environment?
On July 5, big thinkers, bright minds, other experts and top speakers will converge en masse at the Grand Hyatt Guangzhou to discuss and debate all matters on eco-urban development at the 3rd UK Architecture Forum: 2012 Future Cities – Eco Urban Living.
Guests will focus on transportation, living, the commercial & retail sectors and culture & leisure areas while sharing ideas on what tomorrow's cities should look like.
Also joining the discussion will be Alastair Morgan, Consul-General of British Consulate-General Guangzhou, representatives from the Guangzhou Municipal Planning Bureau and Jeremy Sargent OBE, Chairman of British Chamber of Commerce Guangdong.
The Nanfang will be there, and we hope you can be too.
Here's all the details for The 3rd UK Architectural Forum, 2012 Future Cities – Eco Urban Living:
Date: Thursday, July 5
Time: Starts at 13:30.
Location: Grand Hyatt Guangzhou, Ballroom, 3/F, 12 Zhujiang West Road, Tianhe District
地点: 广州天河区珠江新城珠江西路12号广州富力君悦大酒店3楼宴会厅
Entrance fee: 200RMB for Chamber members, 400RMB for non-members.
For more details, including a taxi printout to get to the venue, get the details on The Nanfang's Events page.
The 3rd UK Architectural Forum has been organised by theBritish Chamber of Commerce Guangdong, UK Trade and Investment and China-Britain Business Council