Posted: 11/30/2012 7:57 am
In the latest round up of aviation news in the Pearl River Delta, Shenzhen Airlines brings more competition to the tarmac in their new alliance move while Swire's support of Cathay could fall away if Air China pays a hefty price.
Stars align for Shenzhen Airlines
Shenzhen Airlines, China's fourth largest carrier, has been handed a "win-win" boost after being accepted into one of global aviation 'big three' alliances.
The move opens up more of the Pearl River Delta as passengers fly to and from China and beyond.
Following parent company Air China, the southern China-based carrier joins Star Alliance, bringing more than 400 flights and 70 destinations to the network.
As reported by WCARN.com, Star CEO Mark Schwab said:
Shenzhen Airlines is China's fifth largest carrier and strengthens the Star Alliance presence in China and across Asia. Our customers now benefit from improved access throughout the economically important Pearl River Delta and across southern China. At the same time, Shenzhen Airlines gains access to a global network with enhanced benefits for its passengers; truly a win-win situation.
This is good news for the legions of international travelers based in Shenzhen, as the can earn frequent flier miles more easily and reach more destinations with less hassle.
The move also brings Shenzhen in line with the rest of the PRD airports. China Southern and SkyTeam have an iron grip on Guangzhou Baiyun while Cathay Pacific and the Oneworld alliance dominate Hong Kong.
Beijing to seize control of Cathay?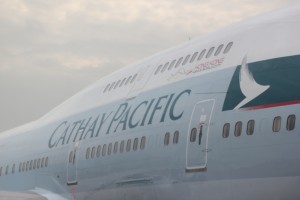 CAPA has a must-read piece on the future ownership of Cathay Pacific. Could Swire, its largest shareholder, be prepared to sell its holding – at the right price – to Air China, which already owns 29.9% of Hong Kong's flagship carrier?
Here's what CAPA has to say:
An Air China takeover would be deeply political, and is seemingly not a question of if but when, how and what the competitive response is. Cathay expects Air China's stake to increase, but Cathay's board 
must first approve a takeover, which is not expected in the short term. The mood from Swire, Cathay's largest shareholder (42%) and source 
of senior management – and almost its entire culture – is a firm commitment to Cathay and aviation in greater China but also seems to be that it will sell, but for a premium. As for accepting a takeover, the time may come when Cathay and Swire know that not cooperating with Beijing will yield unfavourable outcomes, as Hong Kong edges closer to becoming more fully a part of China.
It has to be said any takeover bid would be deeply controversial and stoke growing anti-Mainland sentiment in the SAR.
Nevertheless, within the 'big three' alliances shaking-up their offerings at the moment, a takeover could lead to wider changes in the Delta.