Austra – "Feel It Break"
3.7 out of 5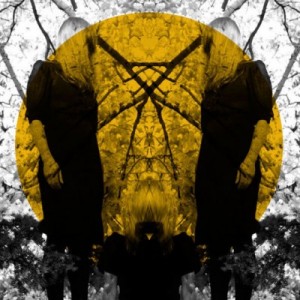 "Don't do it!" A friend told me about Austra; "It's an 80's new wave trick!" They may dance like fairies and dress like alien extras from William Shatner's Star Trek (a comparison I can only assume Austra would take as a compliment), but I'd be lying if I didn't tell you that there's something maddeningly addictive going on here. Now I'm not the sort of guy who gets up in the morning and thinks: "hmmm, I could really go for some synth-goth disco", and yet, here I am telling you that you should do yourself a favour and check-out Austra's debut LP, Feel It Break.
The Toronto-based band is fronted by operatically trained vocalist Katie Stelmanis, a singer with enough vibrato to make Grace Slick proud. Classically trained percussionist Maya Postepski ("Austra" is Postepski's middle name), and bassist Dorian Wolf round out the trio that has since branched out to a sextet for their current tour. Feel It Break is a record that plays like a blend of late 80's Depeche Mode, Siouxie and the Banshees, Bjork and a pinch of Kate Bush thrown in for good measure. With booming synth lines and Stelmanis' soprano firmly firing up the middle, Feel It Break packs quite a wallop.
As one of the more restrained tracks on the record, opener "Darken Her Horse" takes a while to get going, but things really open up on "Lose It": "Don't wanna lose ya…" Stelmanis sings while backed by a wall of voices, piano, synths and tinny sounding percussion…and manages to sound absolutely massive while doing it. Equally gargantuan is the intro to "Beat and the Pulse". The track opens with a single synth loop before adding another; it then quickly layers a series of drum loops until the track absolutely explodes at the forty-second mark. Reminiscent of the opening to New Order's "Blue Monday", "Beat and the Pulse" sets the tone for the excellent mid-section trio of the aforementioned "Pulse", "Spellwork" and "The Choke". Though the somewhat formulaic approach begins to run thin through the records second half, Austra switch gears, at least a little bit, with the excellent closing tracks "The Noise" and "The Beast". The former makes the interesting choice of avoiding all use of percussion until the last few bars, while the latter strips all of the glitter, leaving only Stelmanis' heavily reverberated vocals, a piano and some reserved guitar and synth treatments which don't enter until half-way through the track.
Though Stelmanis could easily blow-out the back of a theatre with her voice, the mix wisely keeps everything fairly balanced. This is largely due to studio engineer Damian Taylor. Best known for his work with Bjork (Taylor is engineering Bjork's forthcoming Biophilia project), UNKLE and the Prodigy, he has a keen sense of how to give Stelmanis room to breath without compromising the sonically intricate arrangements. Credit is also due to ex-Spiral Beach bassist Dorian Wolf, who firmly plants all the synth madness with some vintage bass work. Now, admittedly, Austra isn't exactly breaking new ground here. Similar acts such as Zola Jesus, Bat for Lashes, Fever Ray and The Knife have been producing a similar blend of goth-friendly new wave synth-pop for a few years now. And, as Stelmanis' voice is used more as a weapon of mass destruction than a narrative tool, there's not much to attach to lyrically. Yet all of this makes the tracks on Feel It Break no less infectious, the arrangements any less refined and Stelmanis' voice any less compelling. If Austra are indeed a new wave trap, then I've fallen for it hook, line, and sinker.
Follow The Spin Doctor on Twitter