15 year old dresses in schoolgirl uniform to solicit sex, says "anything better than being poor"
Posted: 05/3/2012 11:59 pm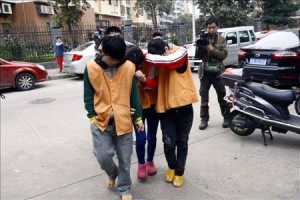 Police arrested two teenaged girls – one of them only 15 – in Foshan last week after they found the girls soliciting sex, according to the Southern Metropolis Daily.
The two girls wore uniforms from the local technical school in Sanshui District and reported to their 23-year old female ringleader known as "Hei Mei".  The girls both admitted they were ashamed of their profession, but had no other source of income.  They said they could demand a high price if they went out dressed as school girls, with one of them saying "anything is better than being poor".
This isn't the first time young teenaged girls have been found soliciting sex.  A similar case was reported in Shanghai last fall.