Posted: 09/5/2014 11:02 am
Not every restaurant has thousands of yuan to buy fine Maotai wines or Huanghelou cigarettes to pander to pot-bellied Chinese officials. Just know that if such luxuries aren't in the budget, you may want to screen your clientele.
On August 31, nine officials in Hongdong County, Shanxi Province, smashed a local restaurant and beat its manager after complaining the restaurant's portion sizes were too small and its cigarettes and alcohol were of inferior quality, reported the People's Daily.
It's unclear which dishes were served by the restaurant but the so-called low-brow quality cigarettes and alcohol the officials were complaining about have been identified as Zhonghua cigarettes and 20 year-old Fenjiu that costs around RMB 300 a bottle. Perhaps not the Dom Pérignon of baijiu but probably pretty darn close.
The story came to light after an online user posted images of the smashed glass tables, broken plates and overturned chairs. According to the police report, the manager stated that not only did the officials vandalize the restaurant, they also refused to pay the RMB 2,000 tab ($326).
The central government has issued a series of anti-corruption regulations banning officials from participating in extravagant meals, receiving gifts or taking expensive business trips, but clearly the officials in faraway Shanxi province are not heeding Beijing's call.
Here are more photos: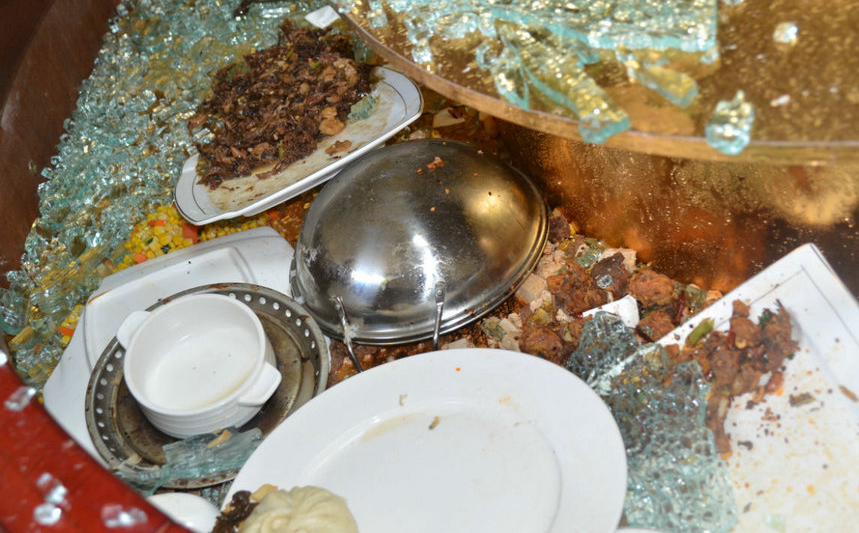 Photos: Weibo