Chaotic hawking has long been a common phenomenon in Chinese cities, most of which take a passive approach in tackling the issue. Guangzhou has decided that instead of sweeping street vendors out of sight, it will regulate their business by issuing licenses through a new "Street Vendor Management Service Center," which opened its doors on December 13 on Changzhou St. in Guangzhou's Huangpu district. This is not only the first government service of its kind in Guangzhou, but also the whole country.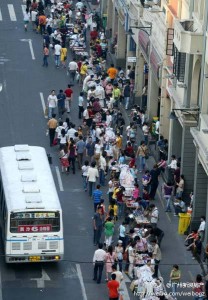 As introduced by the city's Urban Security Management Office, aka 'Chengguan', the overall plan is to legalize 100,000 unlicensed street vendors within the coming five years. With a goal of keeping the number of street vendors in the city below 300,000, 120 city-level temporary commerce areas will be set up on at least 75% of major streets.
The first "Street Vendor Management Service Center" is located on Guangzhou's Changzhou Island, a major tourist location accessible by ferry from Huangpu Pier which hosts 800,000 visitors a year and has about 200 illegal street vendors. According to officials at the Center, to acquire the legal documents of street-selling, vendors need only apply with proof of identification. Vendors who fulfill the on-street trading requirements will be directed to a temporary commerce area and issued a valid operating license. At these sites, details such as permitted goods, operating hours, and approved locations for commerce activity will be clearly displayed.
In addition, vendors can even register to apply for a license online at the Guangzhou Street Vendor Service website, which has begun trial operations, enabling Chengguan to establish a thorough database of the city's street vendors. At this stage, a quota of around 2,000 selling permits up for grabs in 18 temporary commerce areas in four districts, Haizhu, Panyu, Liwan and Huangpu.
The monthly fee for a street vending license ranges betweeb 300-500 RMB.