Posted: 09/28/2014 11:53 am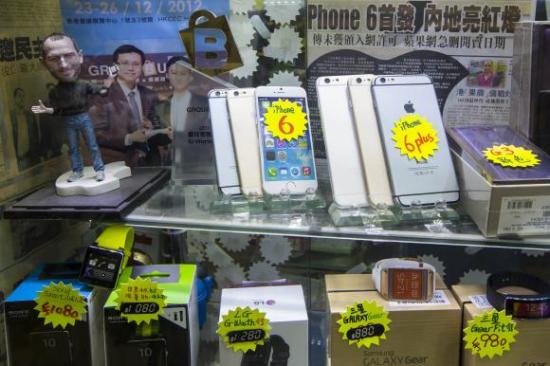 China's firebrand mouthpiece has published an editorial advocating open hostility towards anyone who owns an iPhone 6, which still isn't officially on sale in China.
The nationalist newspaper Global Times said lust after the product and the opportunists that are trying cater to it have both made China lose face on an international scale; "face", of course, being the ancient concept that the respect of a person or entity is entirely dependent upon what others think of you/it.
READ: iPhone 6 Selfie Spreads on Chinese Social Networks
The Global Times points to three individuals arrested for fighting outside an Apple store as an example, noting all three are "Chinese nationals". In fact, the paper even printed this passage:
A US police officer insulted (the Chinese people waiting in line), saying, 'Haven't you people ever heard of soap?' After this incident comes to be known in China, it will be an embarrassment for many people here.
READ: Unreleased Hong Kong and US Versions of iPhone 6
Already on Sale in Beijing for US$4,500
So what does the Global Times think of iPhone 6 owners?
Most people do it for vanity so that they can show it off. It's as though having an iPhone 6 right now is so awesome, as if it were trendy, cool, and impressive. But in fact, the people that now have the iPhone 6 aren't what they think they are.
READ: Chinese Line Up Globally To Buy – And Then Sell – the iPhone 6
The reckless drive for profit is not just something that Chinese have done, but Marx described how profit can warp human nature. At the time he said it, he was referring to Westerners.
…
To borrow a phrase, "If there is no buying or selling, then there is no loss of face."
READ: Shenzhen: The Cradle of the iPhone, and Also its Huge Resale Market
The op-ed concludes by saying why Chinese people should be ashamed:
Many people say the iPhone 6 exploits the Chinese people by performing mental experiments in the form of number of marketing tricks, thus proving that there are fools with too much money in the Chinese market. This is the place where there is a real loss of face. That's why whomever has an iPhone 6 deserves to be looked down upon with despise.
With the blame fully doled out, no mention was made in the op-ed of the reason behind the delayed launch of the iPhone 6 in China. As reported by AsiaOne, Beijing's Ministry of Industry and Information Technology did not list the iPhone 6 as having been approved for the Chinese market before its worldwide launch.
READ: No Mooncakes, No work! Workers at Apple's Supplier
in Dongguan on Strike
Though the iPhone 5s launched in China simultaneously with the rest of the world, this iPhone hit a snag when CCTV accused Apple of threatening national security by being able to track a user's location. However, rumors are the iPhone 6 is set to go on sale in China on October 10.
Related:
Photo: Reuters