Posted: 06/17/2014 11:49 am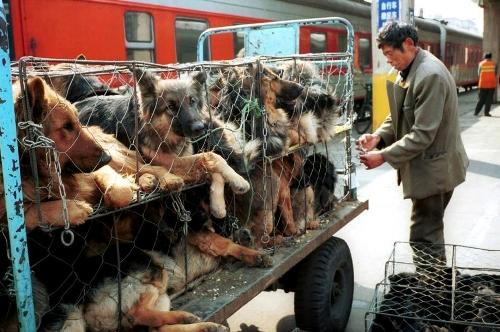 UPDATE 3, 7:06pm June 22: The Yulin Summer Solstice Dog Eating Festival did in fact take place on June 21; please see here for our report.
UPDATE 2, 10:29am June 19: A new development indicates the Yulin dog eating festival has already been held after all. Organizers moved the date to avoid detection.
UPDATE 1, 8:42 June 18: A comment from Sina suggests these statements were made by the local government in order to completely dissociate itself from the dog eating festival by cancelling tours for the festival and completely withdraw support.
***
The Yulin Dog Eating Festival has drawn so much criticism from around China that it appears to have been cancelled, according to Caijing.
The annual festival was to be held on June 21 as part of a long tradition in Yulin, Guangxi in which approximately 10,000 dogs are consumed.
READ: Animal Activists Clash with Dog-Serving Guangxi Restaurant
A government official not willing to be identified gave this statement:
The government of Guangxi and the city of Yulin have decided to withdraw from hosting the dog eating festival because the pressure given to us by people from all walks of life is simply too much!
The cancellation seems to have been confirmed by local residents. A young boy at a concealed slaughterhouse for dogs said on June 12:
The government is not letting us sell any (dog meat). After killing the dogs today, there won't be any more dogs to kill. (Anymore new) dogs from outside the city aren't allowed in. 
A local dog meat proprietor complained about the withdrawal of support from the government:
I still remember the words that department head Li Junqing from the Food and Drug Inspection agency had said at last year's festival, 'If you dare to interfere with the eating of dog meat, they will pick up a knife and kill you!' Didn't think that so soon after saying that, the government's position would reverse so suddenly.
READ: Shocking: The Brazen Capture of a Dog in Broad Daylight in Guangdong
The local Yulin government had previously tried to dissociate itself from the local dog eating festival. Under mounting public pressure, the Yulin municipal government announced on June 6 the dog eating festival would be a private and commercial venture not associated with the government.
The local government had made concessions earlier to try to reach a compromise between local residents and animal rights activists. The government issued a directive to local residents to hide any advertising of dog meat on restaurant signs and to refrain from slaughtering dogs in public places.
Furthermore, an order given by the government to doctors and nurses to refrain from eating dog meat has also been revealed to include all Yulin civil servants.
Related:
Photo: OCCUPYLAC