Posted: 05/22/2014 1:16 pm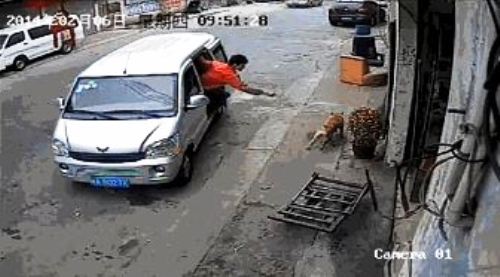 [Warning: this post contains material that some readers may find objectionable.]
So, you're a liberated, tolerant person. You are an expat who doesn't bristle at the chainsaw revving of a throat about to be cleared of its long branches of phlegm, nor do you mind queue-jumping nor the running for empty seats on the subway. Hey: when in Rome, right?
So when you hear about locals eating dogs, the shoulder just shrugs. The dog is an animal just like a pig or chicken; its use as a house pet is simply an urban affectation.
VIDEO: Dog in Heshan, Guangdong Snatched in Mere Seconds
But, have you ever wondered where fine establishments that serve dog receive their stock? Is there a free-range puppy farm on the outskirts of the city where dogs are allowed to friskily prance all day in order to make their meat more tender?
Maybe, but then again maybe not. This GIF is from a post made on the Guangzhou Police Weibo official account: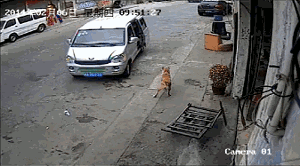 The Guangzhou police reported a dog went missing on May 20 between the hours of 5 and 10am, whereas the time code in the video plainly reads 9:51am on Thursday, February 6, 2014. With such a discrepancy, we can't definitively say which is correct, but that the video footage certainly depicts a stray dog cruelly being captured by a "poacher", if the act of stealing free dogs from a public street in China is illegal (we're guessing it isn't).
We can't say for sure what will happen to this dog. Maybe it will be given a new home at an orphanage. Maybe there's a crisis involving a critical overabundance of sticks that need someone to play catch with. Or maybe it's the culmination of our darkest fears.
Regardless, we don't hold much hope for this dog's future.
Photo: Weibo screenshot