Posted: 05/30/2014 1:59 pm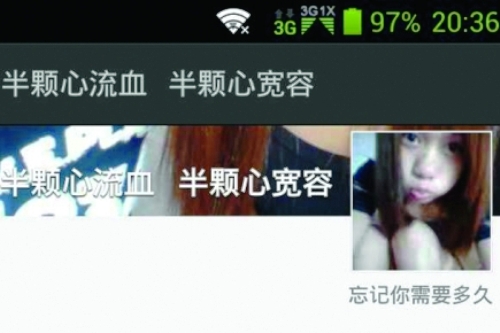 Distraught over a failed relationship, a 17 year-old girl surnamed Fu
broadcast her suicide attempt online using the WeChat social media service, reports the Nandu.
READ: Guangdong Schoolgirl Attempts Suicide Because
Teacher Disapproved of Hairdo
After failing to win the affections of her love interest, Fu cut her wrists in a hotel room in Jiangmen, Guangdong at around 7:50pm on May 28. Fu posted pictures of her bloodied arm online as well as this text:
Half of my heart is bleeding, half of my heart forgives.

How long will it take to forget you?

As much as this hurts, it doesn't hurt as much as my heart hurts

What am I, in the end? I say other people are retarded, but I am also myself. Chen Xuanlin, I hate you.

I'm someone who has never done drugs before, but today, what else is there to do? I love you, Wenjie.

I love him, but he doesn't love me. Love is always like that.

I won't be so foolish again, won't force it, forcing this won't result in happiness, I won't make you stay because of my tears.
An unidentified friend in Fu's WeChat social circle saw the posts and had the following conversation with her: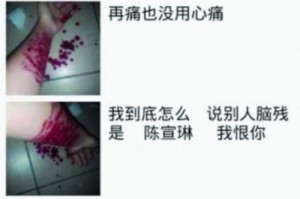 Friend: What are you up to?
Fu: Killing myself.
Friend: Sister, do you need me to call the police?
Fu: No need, I want to die.
Friend: Dying at such a young age is a tragedy. Where are you right now?
Fu: Haiyi Hotel, Room #505
The friend found Fu at the specified location and notified emergency services, who in turn were able to successfully rescue Fu.
READ: Threatening to Jump, Woman in Zhongshan
Falls Asleep During Suicide Attempt
Fu had used shards from a broken tea pot to make dozens of gashes into her left front forearm. Upon inspection, medical personnel say the cuts are not deep, and that the injuries are not life-threatening.
Police say that Fu had been using methamphetamine before the suicide attempt, but are unsure as to the source of the drug.
Related stories:
Photos: Nandu