Posted: 05/15/2014 12:52 pm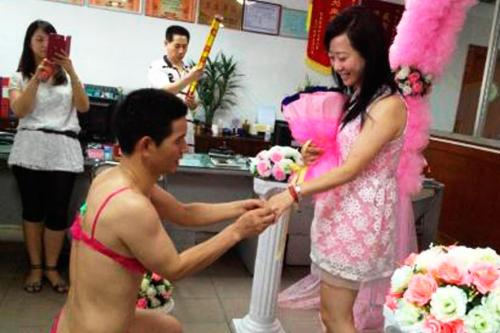 In this relationship, we're not sure who wears the pants.
A 40 year-old electrician and plumber named Lian publicly proposed to his girlfriend Liao while dressed in a matching red bra and underwear yesterday in Zhangmutou, Dongguan.
Lian's public lingerie show were part of a set of conditions demanded by Liao, aged 30.
PHOTOS: Shenzhen Lingerie Supermodel Contest
"My girlfriend made me do it," Lian said, and described his foray into lingerie modelling as a test.
She wanted to see if I really loved her, would take care of her, and if I would have the courage to propose to her in a way that ordinary people may not understand.
The couple first met each other ten years ago, but made a romantic connection last year when Lian went to help with renovations to a property supervised by Liao.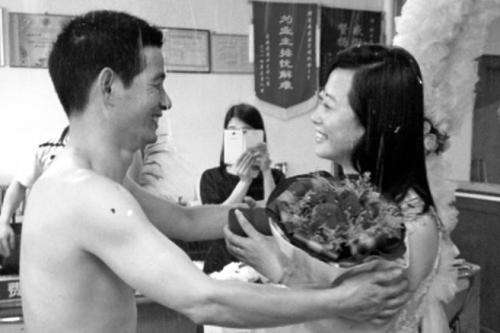 The conditions set by Liao may be related to the economic disparity between the couple. Liao earns approximately RMB 10,000 a month as an accountant with a property management company, but Lian, once divorced, earns less than that and does not own a house.
Lian explained himself further:
I'm not handsome, not young, don't have any money, and I am without any assets to speak of. That's why my proposal is more unique without going overboard. Also, this will be an unforgettable experience.
RELATED: Bikini-Clad Shenzhen Girls Call for "Rational" Protest
Against the Japanese
Without the security of a home and assets to comfort her, Liao thusly explained her attraction to Lian:
Can't say if this is fate, but I just like Lian for his simple and virtuous nature.
We do, too. It seems only a person of a simple and virtuous nature would ever acquiesce to such a demand.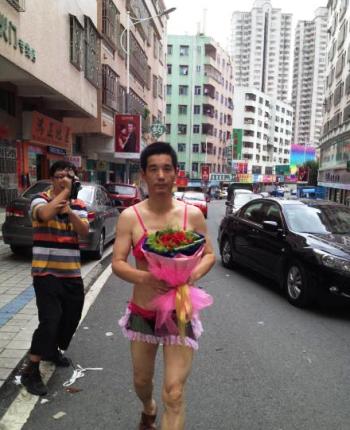 Read:
Photos: Yangcheng Evening Report