Posted: 04/23/2014 2:48 pm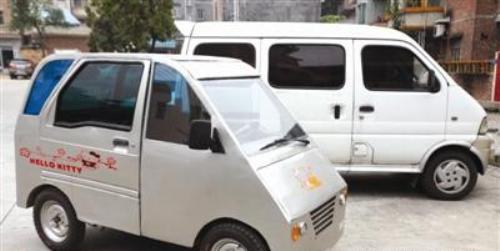 Here it is—the mini-minivan. Mr Zhong creation is hailed as a "masterpiece" by his neighbors, and is chiefly used to ferry his grandson to school. The pride of Hengkeng Village, Liaobu County, city of Dongguan cost 5000 yuan to create, and—hey, is that a Hello Kitty decal?
The fastest elevator in the world will be installed at the Guangzhou CTF Financial Centre, planned for completion in 2016. It will take just 43 seconds to go up the building's 95 floors, a distance of 440 meters. Maybe this will compensate for the fast escalators down in Hong Kong.
With a 2-1 win over Yokohama F. Marinos, Guangzhou Evergrande has qualified for the final 16 bracket of the AFC Champions League.
For whom the bell tolls: Starting April 28, there will be a single flat rate charged for using the Guangdong Provincial Expressway.
Love taking the bus in Guangzhou? You'll be pleased to know there will be 100 extra bus routes planned for the end of the year instead of 50 as originally planned.
File under "I didn't know they needed so many": in a shakeup at Dongguan City Hall, seven deputy mayors have been re-assigned.
Daily police patrols in Zhuhai will increase on May 1 by 720 police officers, of which 450 will be armed special forces. This coincides with the increase of Guangzhou police patrols by 11,000 as well as the announcements of armed police in other Chinese cities like Shanghai. With all these guns, we're wondering if there will be an increase in police shootings of suspects that will all be bad people, of course.
Cao X Bao, a Dongguan man who tracked down thieves that stole a ring from his sister and then trapped, beat, and demanded RMB 20K in compensation from them has been fined 3000 yuan.
A Shenzhen man named Wu stabbed his ex-wife Zhang to death on April 20 before severely injuring her boyfriend Fu and then turning the blade upon himself,unsuccessfully.
A man accidentally drove into an industrial run-off channel beside the Songlin Industries in Chang'an County in Dongguan in the early hours of April 22. Attempts to resuscitate him failed after he was pulled from the submerged car.
Photo: Time DG